Roll over image to zoom in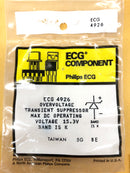 Description
Philips ECG ECG4926, 18.0V DC Surge Clamping, Overvoltage Transient Suppressor, Unidirectional ~ Axial Lead (NTE4926)

The 4900 series of silicon Transient Suppressors designed to protect voltage sensitive components from high energy voltage transients. Transient over voltage suppressor  devices have become very important as a consequence of their high surge capability, extremely fast response time, and low incremental surge resistance (Rs).
Specifications:

Reverse Standoff Voltage, Vr: 15.3V
Breakdown Voltage, Vbr @ 10mA IT: 17.1V Minimum, 18.0V Nominal, 18.9V Maximum
Clamping Voltage, Vc: 25.2V Max. @ Ipp = 59.5A
Reverse Leakage Current, Ir: 5uA
Peak Power Dissapation, Ppk: 1500W
Operating Junction Temperature Range, TJ: -65°C to +175°C
Case: Axial Lead Package 

Replaces: NTE4926
Payment & Security
Your payment information is processed securely. We do not store credit card details nor have access to your credit card information.