Roll over image to zoom in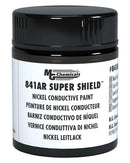 Description
MG Chemicals # 841AR-15mL Super Shield Nickel Conductive Coating, 12 mL (0.4 fl oz) Jar.
This nickel conductive coating for plastic is an EMI / RFI shielding paint consisting of a 1-part, solvent-based acrylic lacquer, pigmented with a highly conductive nickel flake. Unlike diamagnetic fillers such as carbon, copper, or silver that only shield the electric component of electromagnetic waves, nickel is ferromagnetic and shields the magnetic component as well. It is smooth, hard, and abrasion resistant. It can be easily applied by brush or spray. It has a quick dry time, with no heat cure necessary. It adheres strongly to most injection molded plastics, such as ABS, PVC, nylon and polycarbonate. It also provides strong corrosion resistance and is suitable for use in marine environments.
841AR provides a conductive coating for the interior of plastic enclosures that suppresses EMI / RFI emissions. It may also be used as a conductive coating for electroplating plastics, or for repairing and prototyping electronic circuits. It excels when corrosion resistance is a concern.
This liquid product is also offered in aerosol and pen formats. We also offer a more economical carbon version, and a more effective silver-coated copper version, as well as a water-based version for use on wood or drywall, and an epoxy-based alternative for use on metal or glass. Before applying this product to plastic, clean the surface with IPA.
Features:
UL Recognized (File # E202609)
Provides effective EMI/RFI shielding over a broad frequency range
Strong corrosion resistance
Mild solvent system, and safe on polystyrenes
HAP free—does not contain toluene, xylene, or MEK
Available in aerosol format
Payment & Security
Your payment information is processed securely. We do not store credit card details nor have access to your credit card information.