Roll over image to zoom in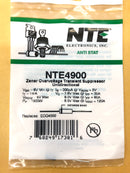 Description
NTE4900, 5V DC Surge Clamping, Overvoltage Transient Suppressor, Unidirectional ~ Axial Lead (ECG4900)

Designed to Protect 5.0 V TTL, DTL and MOS Circuitry.
The NTE4900 is a zener overvoltage transient suppressor in an axial lead type package designed to protect voltage sensitive components from high voltage, high energy  transients.
Specifications:

Reverse Standoff Voltage, Vr: 5V
Breakdown Voltage, Vbr: 6V @ 1A Minimum
Clamping Voltage, Vc: 7.6V Max. @ Ipp = 30A; 8.0V Max. @ 60A
Reverse Voltage, Vrsm: 8.5V Max. @ Irsm - 120A
Reverse Leakage Current, Ir: 300uA
Peak Power Dissapation, Ppk: 1500W
Operating Junction Temperature Range, TJ: -65°C to +175°C
Case: Axial Lead Package 

Replaces: ECG4900
Payment & Security
Your payment information is processed securely. We do not store credit card details nor have access to your credit card information.