Roll over image to zoom in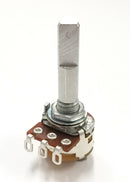 Description
Philmore PC745 10K Ohm Linear Taper Solder Lug Terminal Potentiometer With Switch, 16mm Body with 1/4" D Shaft.
Specifications:
Total Resistance: 10K Ohm
Resistance Tolerance: 20%
Maximum Voltage: Linear = 150V AC
Power Rating: Linear = 200 mA, 0.2W
Switch Rating: 1.0 A @ 12V DC or 125V AC
Total Rotation: 300°
Rotation Life: 15,000 cycles
Bushing Diameter: 7mm
Shaft Length: 30mm w/ flat (12 mm)
Payment & Security
Your payment information is processed securely. We do not store credit card details nor have access to your credit card information.