Roll over image to zoom in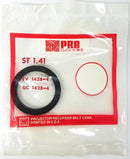 Description
NEW PRB ST1.41 (ST35.81mm) Video Clutch or Idler Tire.
This Idler is New Old Stock (N.O.S.) and is in it's original package.
Features:
PRB ST1.41 (35.81mm) Idler Tire

Outside Diameter:1.415"
Cross Section: 0.143"
Wall Thickness: 0.1
64 "
Payment & Security
Your payment information is processed securely. We do not store credit card details nor have access to your credit card information.