Roll over image to zoom in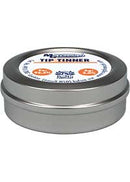 Description
MG Chemicals Tip Tinner is a mixture of tin / silver/copper lead free solder powder and thermally stable, oxide-reducing compounds. Used to repair oxidized soldering tips for optimal performance and for extending the working life of new soldering tips by re-tinning or removing baked on residues and oxidation that accumulates on soldering tips when not in use.
Features:
Easy to use Effective at repairing oxidized iron tips
Prolongs the life of new iron tips
96.5% Tin / 3.0% Silver / 0.5% Copper
RoHS Compliant
Payment & Security
Your payment information is processed securely. We do not store credit card details nor have access to your credit card information.