Roll over image to zoom in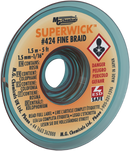 Description
The 400 series Super Wick Fine Braids are high quality, precision cleaned desoldering braids that were produced with up-to-date and environmentally friendly processes and technology. The high purity copper conducts heat fast, allowing for faster wicking and shorter dwell time that minimizes possible overheating damages.
Features:
Conforms to MIL-F-14256E RMA flux and J-STD-004
High purity, oxide-free copper
ESD (Electrostatic Dissipative) safe for 1.5 m [5 ft] bobbins
Environmentally and PCB safe residues
Suitable for Use in Food Facilities as a Non-Food Chemical - Canadian and NFS recognition letters available on request from MG Chemicals
Applications:
Cleaning de-energized electronics components and equipment
Flux Removal
Payment & Security
Your payment information is processed securely. We do not store credit card details nor have access to your credit card information.