Roll over image to zoom in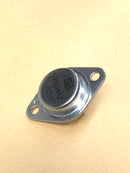 Description
iPS 2N3442, NPN Silicon Power Transistor for Applications in Industrial and Commercial
Equipment including High Fidelity Audio Amplifiers, Series and Shunt Regulators and
Power Switches.
Specifications:
Vceo: 140V
Vcb: 160V
Continuous Collector Current Ic: 10A
Power Dissipation: 117W
Gain hFE: 20 Minimum, 70 Maximum
Package/Case: TO-3
Payment & Security
Your payment information is processed securely. We do not store credit card details nor have access to your credit card information.