Roll over image to zoom in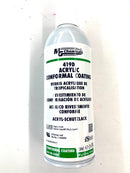 Description
 **THIS ITEM MUST BE SHIPPED VIA UPS GROUND**
The 419C Acrylic Conformal Coating is an IPC-CC-830B and UL 94-V0 certified, fast drying, xylene, and toluene free product. This one-part coating provides an excellent finish, is easy to use, and does not require special or costly equipment to apply. It is ideal for high moisture environments and applications requiring easy repair and rework.
The 419C coating protects electric circuit against moisture, dirt, dust, and thermal shocks that could corrode, short circuit, or damage the electric component. It insulates against high-voltage arcing, shorts, and static discharges. As well, this coating provides a high dielectric withstand voltage that allows traces to be put closer together which helps with miniaturization.
Features:
Certified UL 94V-0 (File # E203094)
Externally Qualified to IPC-CC-830B by Pacific Testing Laboratories
Super-fast cure—tack free in about 3 min; dries in 30 min at 65 °C [149 °F]
East to use and apply, available in liquid and aerosol
Protects electronics from moisture, corrosion, fungus, and static discharges
No Hazardous Air Pollutants—free of toluene and xylene
Easy to inspect—fluoresces under UV light
Constant service temperature range -65°C to 125°C
Easy rework and repairs—can solder through
Removable with Cat. No. 8312 (liquid) Conformal Coating Stripper
Applications:
Printed Circuit boards
LED Boards
Electric generators, motors and transformers
Relays
Automotive air bag controllers
Cell phones and Computer tablets components
Avionics
Payment & Security
Your payment information is processed securely. We do not store credit card details nor have access to your credit card information.