Roll over image to zoom in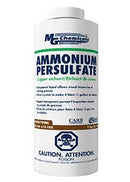 Description
**THIS ITEM MUST BE SHIPPED VIA UPS GROUND**
Copper Etchant Ammonium Persulfate crystals are used as an alternative to the traditional ferric chloride to produce a cleaner copper etchant solution. Mixed product must be stored in a ventilated container. One kilogram of crystals will produce four liters of etching solution when mixed with water. Not compatible for use with Etch Resist Pen (Cat. No. 416-RP).  
Compatible with tin etch resist
Payment & Security
Your payment information is processed securely. We do not store credit card details nor have access to your credit card information.