Roll over image to zoom in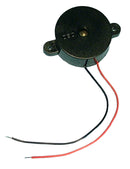 Description
Philmore B820 3V-20V DC Hi/Lo Oscillating Piezo Sounder ~ 95dB to 105dB.
Loud sounder that may be powered with a voltage of anywhere from 3.0 to 20VDC. Output minimum 95db at minimum voltage; 105db at 20 volts. Sound frequency is 2.8Khz ± 0.5Khz. Typical current draw is 6mA @ 6V DC; 10mA at 20V DC Volts. ABS case meets UL94HB, lead wires are UL listed materials. No other circuitry is needed, just DC voltage. Mounting ears are on centers of 50mm, case diameter is 42mm O.D.
FEATURES:
Operating Voltage: 3V - 20V DC:
Current Draw: 6mA @ 6 Volts up to 10mA @ 20 Volts
Sound Pressure: 95dB @ 6 Volts up to 105dB @ 20 Volts
Sound Type: Hi/Lo Oscillating
Sound Frequency: 2.8kHz +/- 0.5 KHz
Mounting: 50mm on Center Screw Holes.
Terminals: Wire Leads.
Payment & Security
Your payment information is processed securely. We do not store credit card details nor have access to your credit card information.