Roll over image to zoom in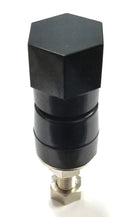 Description
Sato Parts # T-9-B, 25.0mm Diameter Extra Large Black Binding Post ~ 50 Amp.
The Knob is Detachable.
Contact Us For Volume Pricing On Sato Parts Products
Features:

Poles: 1 Pole
Body Dimensions: 74.0mm Length x 25.0mm Diameter

Insulation Resistance: DC1000V, 1000MΩ Min
Withstand Voltage: AC2000V 1 minute
Mounting Hole Diameter: 15.5mm
Panel Thickness: 3.5mm (0.138 inch)(Max)
Current Rating: 50 Amps
Voltage Rating: 600 Volts
Main Insulator: Phenol

Color: B (Black)
The Knob is Detachable
Payment & Security
Your payment information is processed securely. We do not store credit card details nor have access to your credit card information.